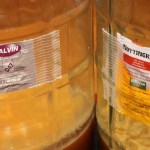 In the last post, it was written that a hard cider yeast experiment had been devised. Primarily, the concern was that of which yeast to use. For the experiment, a standard sweet cider was used and an amount of brown sugar was added to raise the starting gravity to 1.067. After this, two different yeasts were pitched. One wine yeast and one ale yeast. The following are the results of the experiment.
Both ciders started up quickly and were brewed at 70 degrees Fahrenheit for 4 to 5 days. At this point, the wine yeast had reached 1.010, while the ale yeast was still at 1.024. To speed things up, the temperature was raised to 80+ degrees (because that's how warm it was in my house.) After another couple days, the wine yeast finished up, and a couple days later, the ale yeast finished up.
Then a final gravity measurement was taken with a hydrometer:
Lalvin D47 wine yeast finished at 1.004 (8.4% ABV)
Danstar Nottingham ale yeast finished at 1.002 (8.7% ABV)
This meant that the ale yeast finished a little drier, but not significantly so.
How did it taste?
A fellow beer-brewer joined me and we both tried each of the ciders. The D47 wine yeast produced a clear, yet traditional dry cider with plenty of fruity notes, while the Nottingham ale yeast did not flocculate as well and had sort of a "whiskey" finish to it. Whether this was because of the ale yeast or because the temperature had been raised, I cannot be certain. I'm inclined to think the latter, though, as I have brewed with other ale yeasts before and never had such a result. (Because I've never really brewed at around 80 degrees.)
How did my friends like it?
Nine more people were invited over to try the cider.
The cider made with the wine yeast was consumed more quickly than the one with the ale yeast. Generally speaking, 2/3 of the crowd preferred the dry, yet fruity cider but didn't really like the drier cider with the "whisky" finish. The minority liked both, but preferred the rougher finish of the ale yeast.
Was the brown sugar necessary?
Well, if you like high ABV cider, then yes, it was necessary. But for the most part, my friends thought that 8.5% for a cider was too high. A 5 to 6% ABV cider was more or less what they were looking for. And the good news here is that to get 5 or 6 %, one just needs to start with sweet cider (1.050) and let it ferment until it is below 1.010.