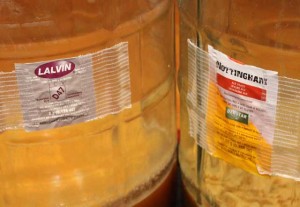 It's still summer-time, yet I was getting a hankering for some hard cider. I don't know why. It seems incredibly popular these days, but I've been brewing it for 7 years now, so I don't see what the big deal is. That said, a curiosity struck me recently regarding cider. Traditionally, I've always aimed for a low-alcohol, semi-dry / semi-sweet hard cider. Something that won't offend and play to many palettes. This means using cider with an original gravity of 1.050 and then stopping it early at around 1.010 or 1.012 — the perfect semi-dry/semi-sweet spot.
The curiosity these days for me is about a few things.
A tasty, yet dry cider. (FG of 1.000 and 1.005)
A high-alcohol cider. (6% ABV or higher)
What yeast to get there?